Hey friends!
I've been working damn hard these past few weeks in order to release the new Plumfruit Part 2Mod Pack! New devices, new features, and SIMSTAGRAM, are being revealed in the trailer down below. You can download the mod TODAY! Links at the end of this page!
NEW PHONES
PlumPhone: a base game phone replacement for all sims, now with redesigned screens as well (when sims are visiting Simstagram or texting someone for example
PlumPhone Pro: you can buy this Pro phone from the catalog or at the Plumfruit Store, put it in your inventory and it will unlock new apps and gameplay! (See down below)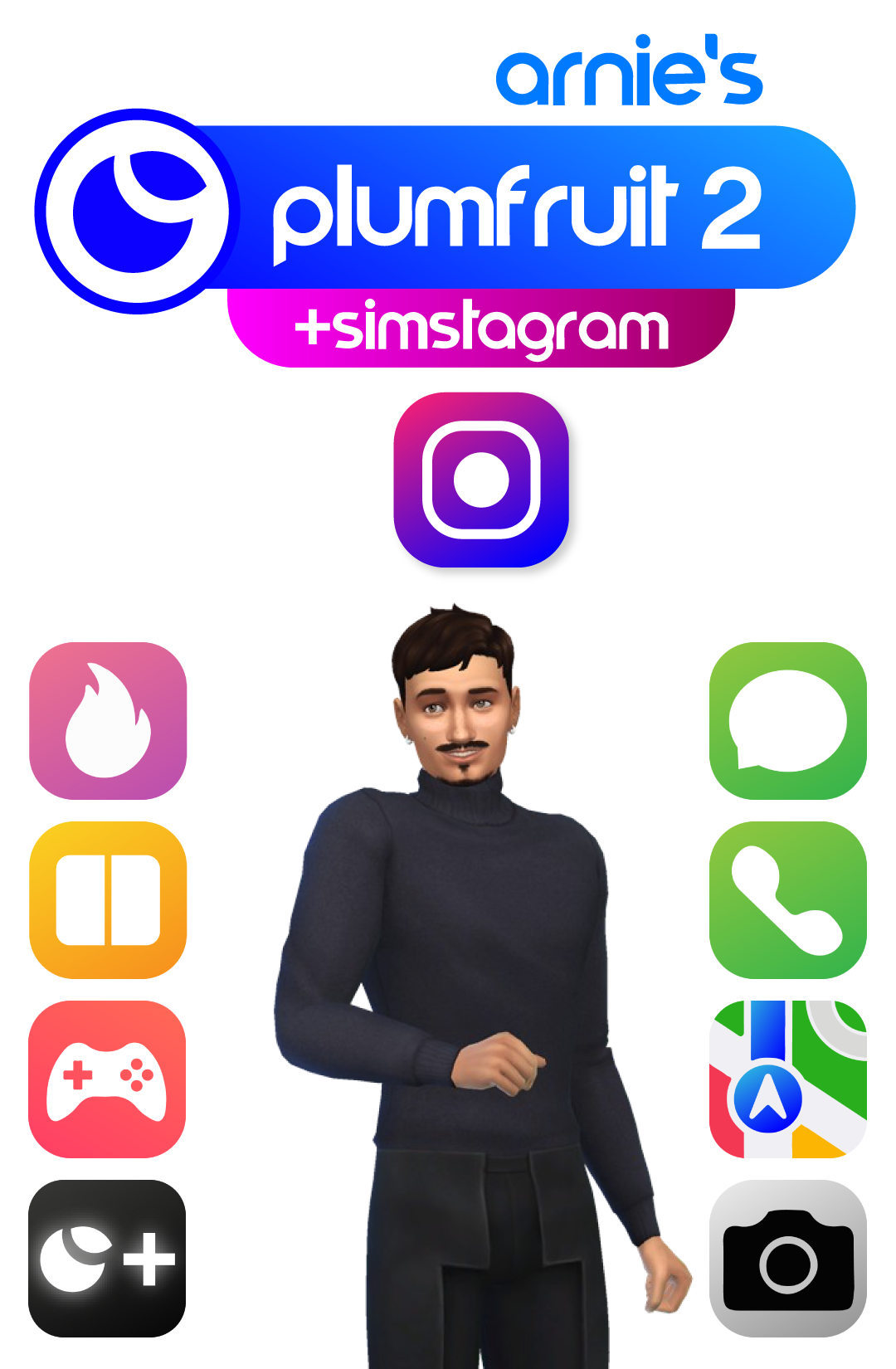 New APPS
UI Phone & features! You can now access some new apps directly from your phone! Some are exclusive to the PlumPhone Pro (or PlumPad)
Telephone: call contacts, hire services, all in one app
Messages: you can now send flirty messages, GIFs, jokes, etc to your contacts, directly from the PlumPhone menu!
Camera: the new camera system in this phone has a fresh new UI, but also allows you to take HD pictures, with zoom capabilities and all directly from your phone
Maps: Travel, invite to a lot, move out, you the know the features, now all reunited in this app
Ebooks: a collection of ebooks is now available on both your PlumPhone Pro and PlumPad devices! You can actually learn skills from these books (ex- « Charisma for DumDums » or « Everything Gardening ») or maybe you just want to have some fun and read for the thousand's time Henry Puffer and the Magical Stone…
Luv'2'Meet: the dating app has been completely revamped! You can now match some sims, send flirty pick-up lines, jokes, gifs and more! Maybe this is the start of your digital fairytale??
Game Arcade: great mobile games reunited in one app!
Photo Library: pick up some photos on in your library in order to upload them to Simstagram, or just delete them! It's that easy!
Simstagram: the most famous social media platform is now more complete than ever! See down below for more information.
SIMSTAGRAM
 The first social media platform in The Sims 4
You can now open your own Simstagram account! Upload pictures from the world, or directly on your phone with the new Photo Picker!
Get followers!!! Each picture posted online will give you more and more followers, who knows, you could be tomorrow's Sim Cardacheean!
Receive comments! Townies around the world like to comment your simstagram pictures, wether it's with their official account, or anonymous comments… for more delicate intentions…
Visit Proximity profiles! You can visit the Simstagram profiles of the sims around you freely, add comments on their pictures, or even send them a DM.
Visit all the world's profiles! You can also visit profiles from sims that are far away, but you won't be able to comment. This feature is reserved to sims that are on the same lot as you (for now)
Manage your feed! If you want to add, remove, change filters, picture's order of appearance, captions, titles, it's all possible! Just click on a picture to edit it! That's it!
Post stories! Stories are a great way for your followers to know what you are doing, and it attracts even more!
Send DMs! Personal messages to anyone who has a Simstagram account, sweet!
A few surprises await you in this app… I can't wait for you to see the comments posted by townies!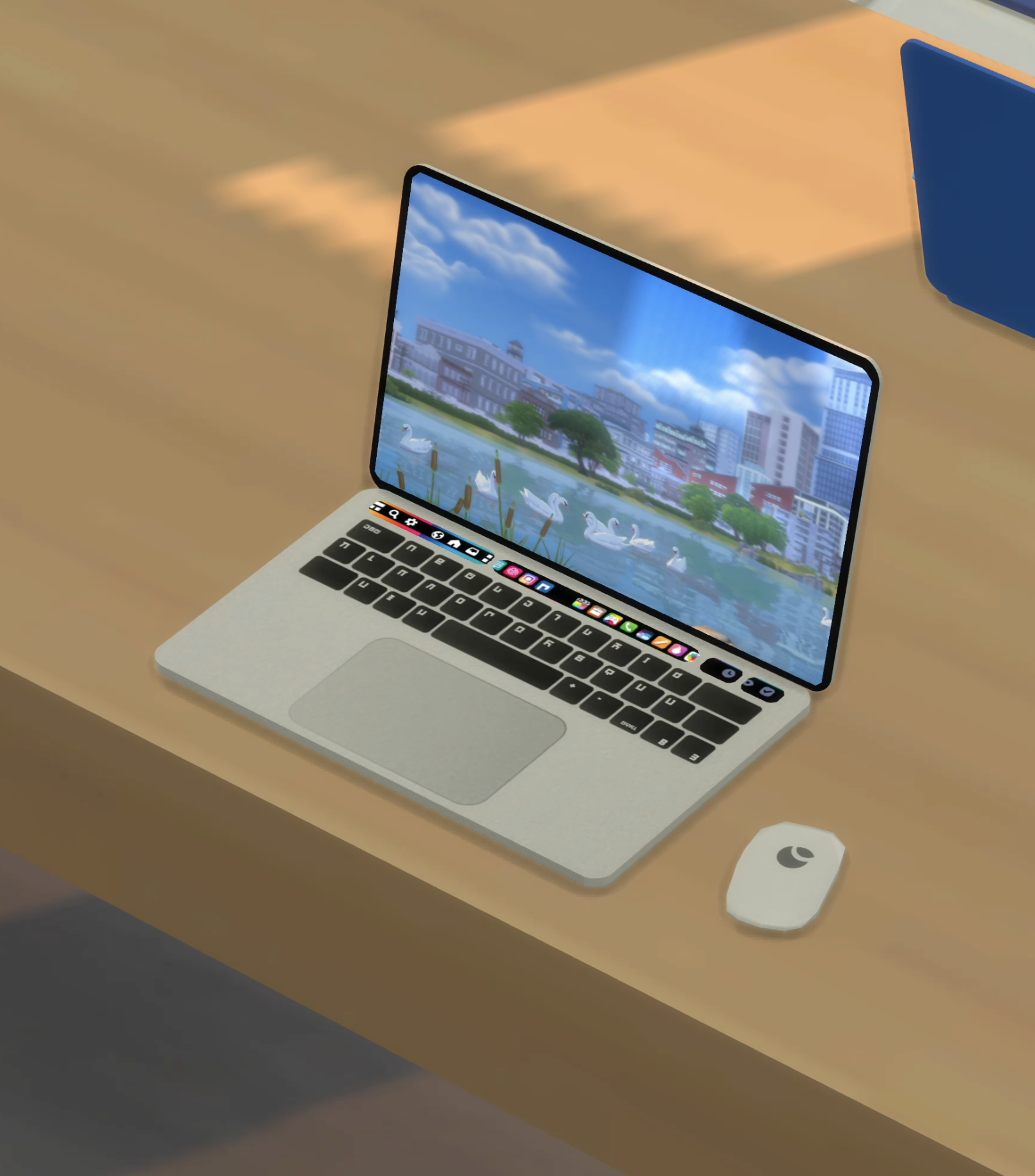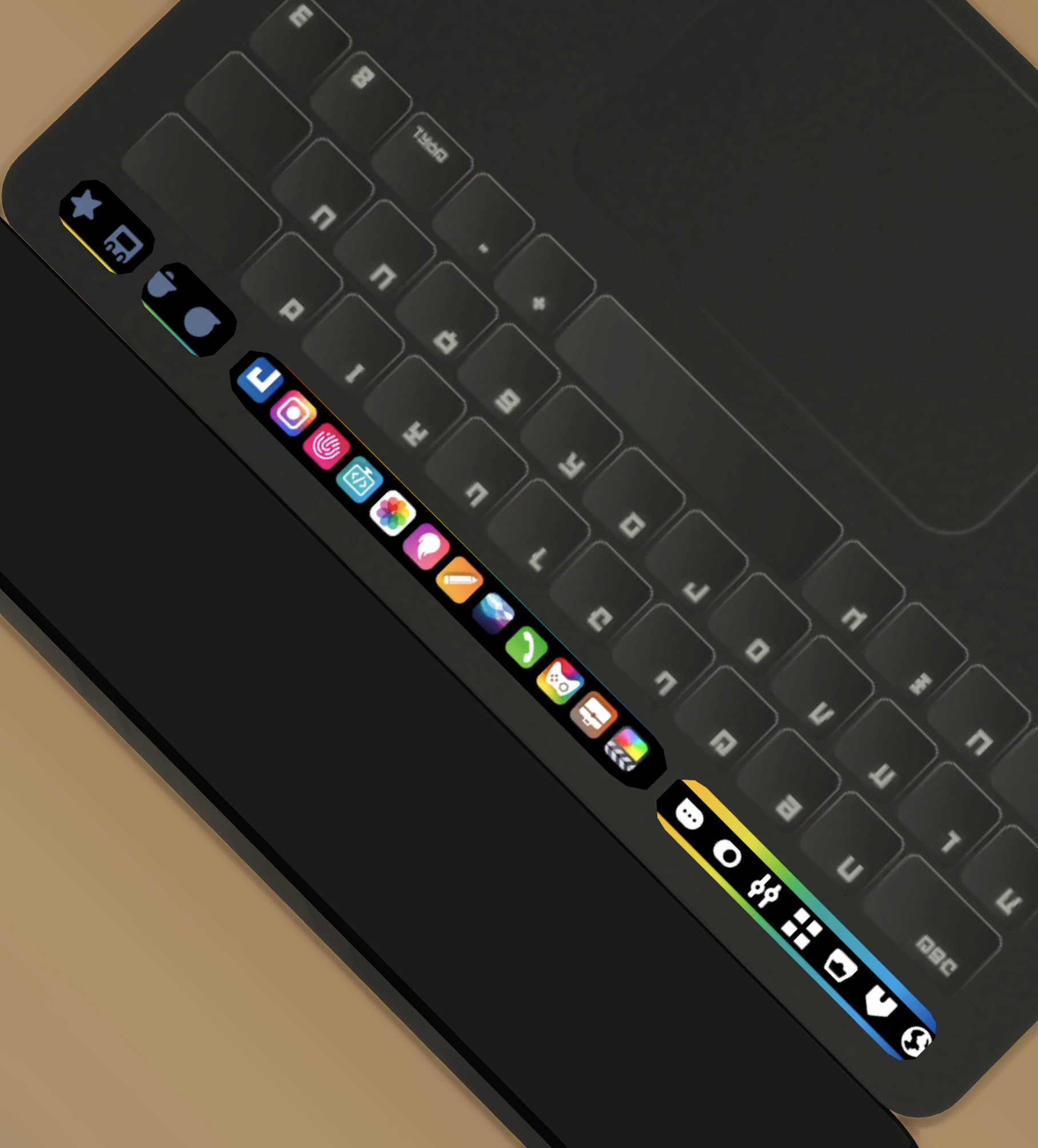 NEW DEVICES
Revamped PlumMac: the PlumMac has been completely redesigned, it now comes in 6 gorgeous colors and two sizes! (The biggest one is the PlumMac Pro). Its keyboard also has an OLED Touch Bar, the mouse has been replaced by a touch pad (much more convenient) and finally, the P1 Pro and P1 Max chips inside these computers make them the fastest in the (sims) world!!
New PlumBook Pro: just like the PlumMac, the PlumBook Pro has been revamped, with a new Touch Bar and now an exciting feature: wallpapers!!
WALLPAPERS: you can now upload any picture from your inventory to set as a wallpaper on ALL PLUMFRUIT DEVICES! So if you want to add a picture of your cat as your PlumPad's wallpaper, and the beautiful skyline of San Myshuno as your laptop's wallpaper… it's all possible! Give some love and personality to your devices!
New PlumPad and PlumPad mini: the two new tablets now feature a super HD camera, a selfie camera, and the new Wallpapers feature!
New PlumPod and PlumPod mini: the smart speakers just got an update! They have been redesigned and now have an animated screen, plus they come in 6 new colours! You will be able to work on your interior design choices more than ever!
New PlumMirror: a smart mirror that is both a… mirror AND a smart speaker! Connected to Linzi (the virtual assistant), it's more convenient than ever! Listening to music while brushing your teeth in the morning? Sweet!
New PlumTV: the new smart TV comes with the Wallpaper feature that allows is to be a giant 4K digital frame for your photos, and it includes two new integrated apps! PlumTV+ channels to watch TV and Simflix to watch Movies (Simflix requires Movie Night Stuff Pack)
New Plumaroid Simstacam! A little vintage camera, with HD features!
New PlumVR Headset! Enter the Plumaverse, a virtual world! You can play new games with this headset: Jungle Run 2 VR, CraftMine Blocks XR, or you can even visit Simstagram in AR! How cool is that?
New Pro Video Station: with wall mounted screens and a smaller footprint, this is the most futuristic pro station ever! (Requires Get Famous EP)
And finally, all the assets from Plumfruit Part 1 are still here (some of them have been slightly updated)
PLUMFRUIT PART 1 – INCLUDED ASSETS
Plumfruit Wall Lamp (updated with the new logo)
Plumfruit Store Table (that allows you to shop Plumfruit Devices and is Base Game compatible!)
Plumfruit Hologram Table (now displaying the new PlumPhone Pro)
Phone UI with different wallpapers
AirBuds (requires Fitness SP)
Plumfruit Shirt (updated with the new logo)
Billboards
Ceiling Glass Window
Older PlumMacs and Video Station (they are now debug objects, but are still functional!)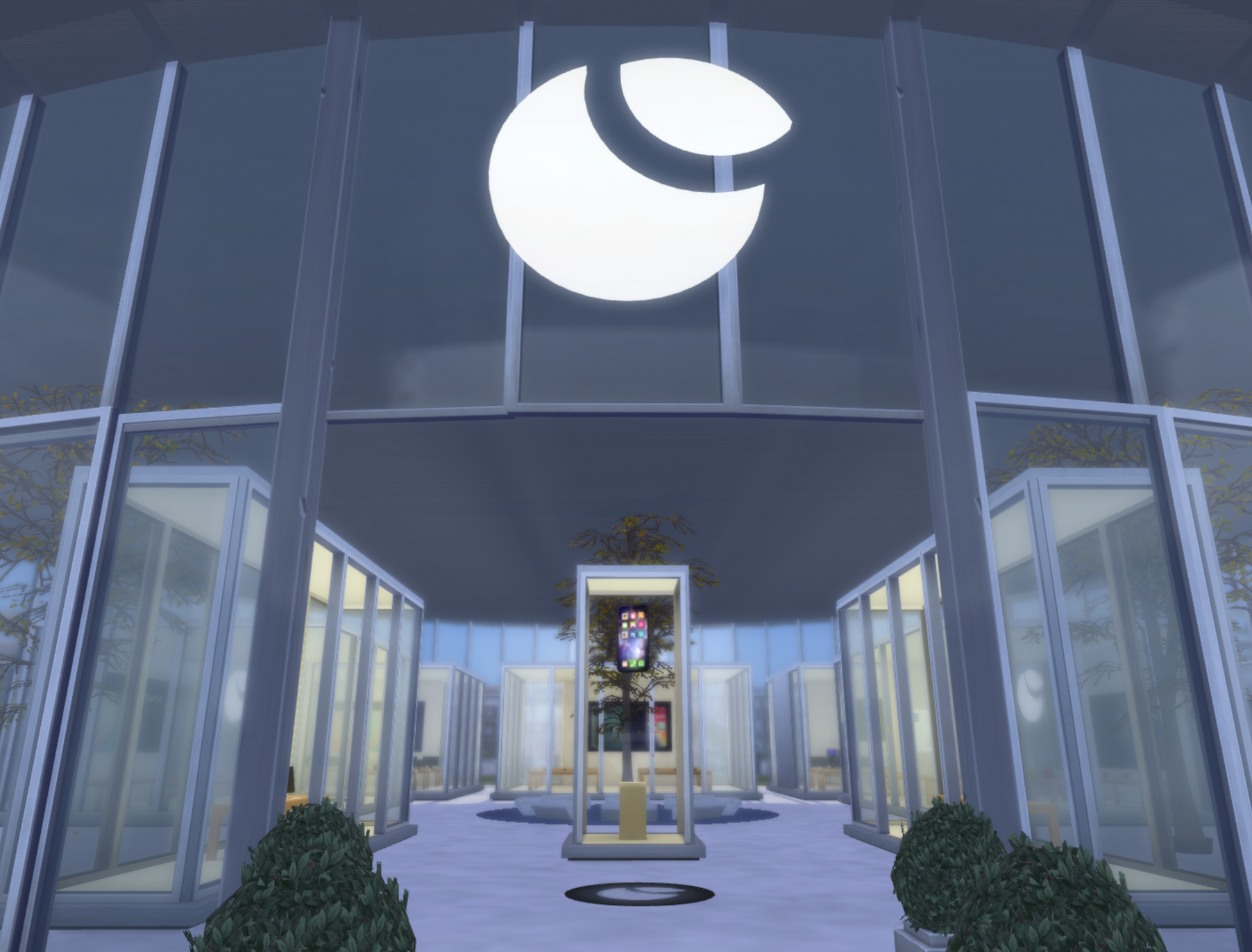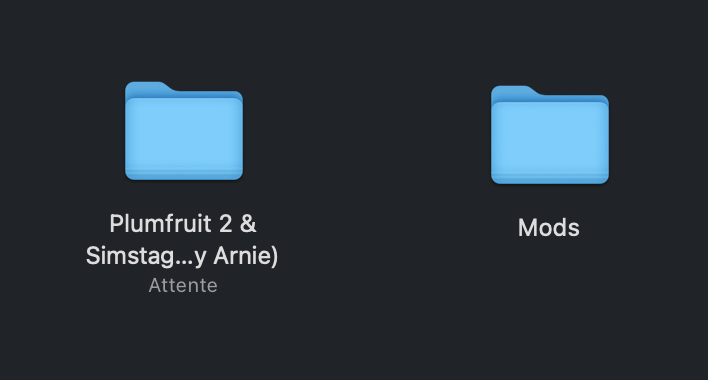 how to install
Just put the "Plumfruit 2 & Simstagram (By Arnie)" folder in your /Mods folder, that's it!
Please remove Plumfruit Part 1 from your mods folder if you had it, the new Plumfruit 2 contains the Part 1 devices already. Also, there isn't a merged package file anymore (it was causing some troubles).
(For newcomers: the /Mods folder can be found on both Mac and PC under /Documents/ElectronicArts/Sims4/Mods)